Purpose of the call
Recent advances in research technology have led to a vast increase in data volumes produced by life science research. These datasets, many arising from large-scale screening projects, are beyond what can be handled, shared and analysed using classical tools and often contain treasure troves of data beyond what was analysed in the initial project. Making available data, tools and workflows in the cloud is therefore necessary in order to use the data produced to the fullest extent, both within and beyond the original intended scope of individual projects.
Within EOSC-Life, "Work Package 3: Demonstrators and Open Calls for User Projects" will drive the Life Science Research Infrastructures' (RIs') connection to EOSC through scientific user projects, selected in an independent review, to begin to populate EOSC with tools, data and workflows of use and impact to our life science communities.
The purpose of this internal call is to identify and support projects that demonstrate how companies can participate in and benefit from open science. It is therefore aimed at those EOSC-Life consortium members with existing collaborations with the private sector that wish to jointly implement a project contributing to the long-term aims of developing an open digital space for data and tools in the life sciences. For full details of eligible projects, see Applicant Guidelines.
What is available?
Applicants can request funding  up to 70,000 EUR per project for personnel costs incurred at the beneficiary or third party to carry out the project. Budget will be allocated accordingly from WP3 funds within the consortium to those beneficiaries implementing the selected project(s). Part of the budget can be used for travel and consumables costs for all applicants (including industrial partners) involved in the project. Cloud credits might be offered in addition through WP7.
Co-funding of projects with own resources or in-kind contributions are possible. In case of co-funding or in-kind contributions, information should be provided in the budget section of the proposal to allow reviewers to assess the feasibility of the proposal. A maximum of 1-2 projects will be funded in this internal call.
Projects can have a maximum duration of 12 months and need to be able to start shortly after notice of award. Projects must end by the end of December 2022.
For details on the required reporting of successfully funded projects, please consult the reporting guidelines.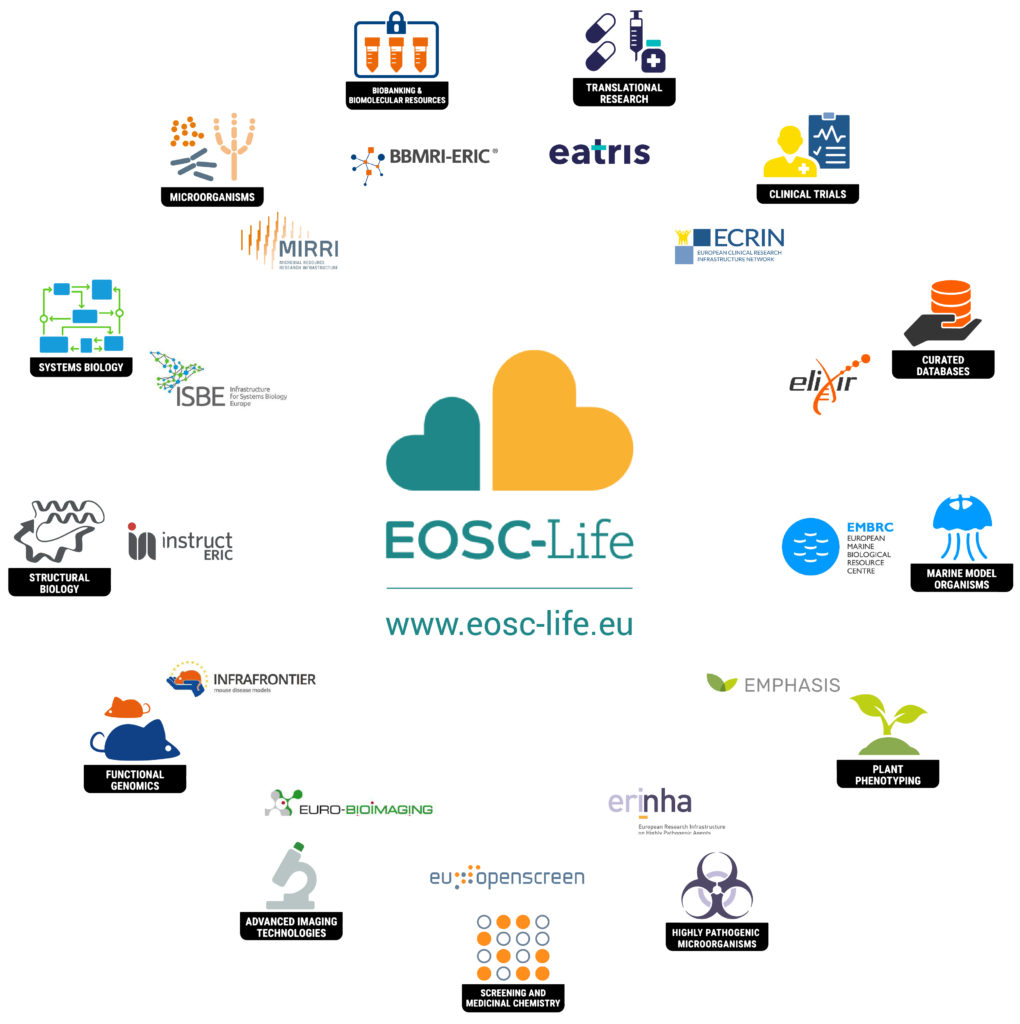 What kind of projects are we looking for?
Applicants
We are looking for research projects from EOSC-Life partners (beneficiaries and third parties explicitly named in the Grant Agreement) that will be implemented in collaboration with at least one industrial or small-or medium enterprise (SME) partner.
Projects should demonstrate reciprocal benefits for the company and the scientific community, such as potential for long-term collaboration or relevance for both academic and commercial research.
For this internal call, funding for personnel costs can only be allocated to the EOSC-life beneficiary(ies) participating in the project. Industry partners can receive funding for travel and consumables. Cloud credits might be offered in addition through WP7. Applicants will receive the support when needed of EOSC-life technical experts (data, workflow and cloud experts) to help them carry on with their project and ensure that the project aligns with EOSC-life goals. (Part of) the available funding is expected to support their contribution to the project.
We particularly encourage those EOSC-Life partners with existing collaborations with industrial or SME partners or those able to quickly establish such collaborations to apply. Industrial collaborators are expected to contribute actively to the implementation of the project and guide the project with respect to industry needs and project impact on industry. Co-funding of projects with own resources or in-kind contributions from industry are welcome, but not a prerequisite.
Project scope
Applications must fall under one or more of the 13 Life Science domains represented by the EOSC-Life consortium and address one or more of the following themes:
Data curation, handling and integration for publishing into the cloud (WP1)

Tool interoperability, workflows and containerization (WP2)

Cloud deployment and resources (WP7)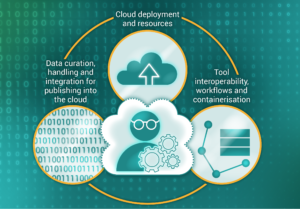 The project must present a life-science use-case, and contribute to and/or take advantage of cloud-based data and analysis. The objective of this call is to make data and/or workflows available to the EOSC and the scientific community. Data and workflows should be available at the point of application and should not be generated from scratch.
Proposals in one or more of the following categories would be in scope:
Sharing of workflows and toolboxes for data pre-processing, sharing and searching

Cloud-compatible solutions for collection, processing, standardisation, FAIRification, and storage of existing data of different varieties, for example in microbiology, pathology, chemoinformatics, drugs and clinical data, via EOSC

Algorithmic approaches to generating data sets within the life sciences

Integration of existing data sets and repositories across life science fields or within individual research communities

Migration of existing workflows into the cloud, adapting these to FAIR data standards and integrating multiple workflows

Metadata generation and use, including automation projects
Not in scope are projects aiming to generate new data sets, development of entire new workflows or software solutions, projects only involving data curation, projects without scientific use cases or those developing cloud tools without open access.
In cases where applicants are lacking access to suitable datasets for tool or workflow development and testing, they are encouraged to make use of publicly available datasets from data repositories, e.g., Image Data Repository (IDR), GenBank, Eukaryotic Pathogen Database Resources (EuPathDB).
For examples of the kind of projects we have supported, please take a look at the pilot projects already completed within EOSC-Life: https://www.eosc-life.eu/services/demonstrators/