Purpose of the call
Recent advances in research technology have led to a vast increase in data volumes produced by life science research. These datasets, many arising from large-scale screening projects, are beyond what can be handled, shared and analysed using classical tools and often contain treasure troves of data beyond what was analysed in the initial project. Making available data, tools and workflows in the cloud is therefore necessary in order to use the data produced to the fullest extent, both within and beyond the original intended scope of individual projects.
The purpose of this Digital Life Sciences Internal Call is to support projects tackling the challenges of open science research using sensitive data. Projects should contribute to the long-term aims of developing an open digital space for data and tools in the life sciences. The overarching goal of the project is to begin to populate EOSC with tools, data and workflows of use and impact to our life science communities. For full details of eligible projects, see Applicant Guidelines.
Background
The European project EOSC-Life creates an open, digital and collaborative space for life science research. This space will comprise data, tools and computational resources together with supporting policies and services. At the heart of the project are the 13 Life Science Research Infrastructures that provide services  across domains, spanning  areas ranging from structural biology to imaging and through to clinical trials (https://www.eosc-life.eu/about/about-european-ris/).
To the best of our knowledge, this is the first time that Research Infrastructures have provided a route for scientific users to contribute datasets, tools and workflows into the cloud, supported by training and providing access to technical consultations with Research Infrastructure data experts and tools developers. To learn more about the data and tools already made available via EOSC-Life, please visit https://www.eosc-life.eu/services/demonstrators/.
What is available?
Applicants can request funding up to 60,000-70,000 EUR per project for personnel costs to carry out the project. Co-funding of projects with own resources or in-kind contributions are possible. In case of co-funding or in-kind contributions, information should be provided in the budget section of the proposal to allow reviewers to assess the feasibility of the proposal.
Successful applicants can also expect training and expert advice from within the EOSC-Life consortium, to enable the delivery of complex cloud-connected life science research projects. Within the Call application phase we offer the necessary 'match-making' to connect applicants with EOSC-Life experts, who will provide consultation regarding technical feasibility and best practice.
Projects can have a maximum duration of 12 months and need to be able to start shortly after notice of award. Projects must end by the end of December 2022.
For details on the required reporting of successfully funded projects, please consult the reporting guidelines.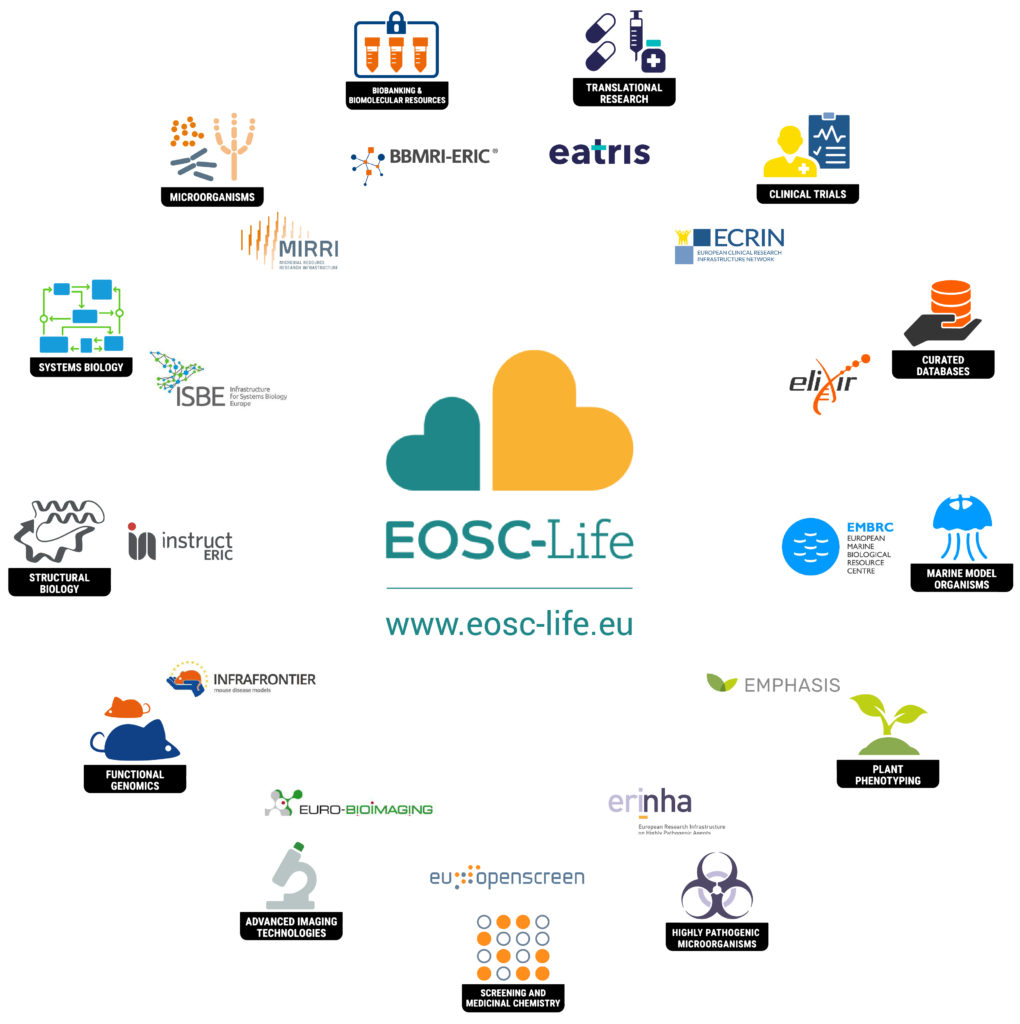 What kind of projects are we looking for?
Applications are invited from EOSC-Life partners (beneficiaries and third parties explicitly named in the Grant Agreement) working on research projects within one or more of the following life science domains:
Biobanking
Bioinformatics
Chemical biology
Clinical research
Functional genomics
Biological and biomedical Imaging
Marine organisms
Microbial resources
Pathogenic microorganisms
Plant phenotyping
Structural biology
Systems biology
Translational medicine
The project must present a life-science use-case, and contribute to and/or take advantage of cloud-based data and analysis. The objective of this Internal Call is to make data and/or workflows available to the EOSC and the scientific community. Data and workflows should be available at the point of application and should not be generated from scratch.
Proposals should align with the goals of EOSC (European Open Science Cloud) – ie. enabling data sharing for the purpose of furthering scientific research. The project's overarching aim is to make life science research data publicly available in a FAIR (Findable, Accessible, Interoperable, Reusable) way in the EOSC. For information on FAIR data, see https://www.go-fair.org/fair-principles/
Proposals should fit with one or more of the following themes:
Data curation, handling and integration for publishing into the cloud
Tool interoperability, workflows and containerisation
Cloud deployment and resources
We are looking for proposals offering solutions for the management of sensitive data and/or sharing workflows and tools specifically designed to deal with sensitive data. Sensitivity of the data may arise from its personal nature (personal data in the sense of the GDPR, e.g. health data, biological samples and associated personal data, genetic data, individual research data, etc.), but can also be caused by biohazard concerns (e.g. Dual Use Research of Concern) or application of the Nagoya protocol.
Only projects falling into one (or more) of these categories will be eligible:
Projects involving sensitive data from/about humans:

projects using anonymised datasets
projects using substitute synthetic representations of sensitive datasets
projects having the legal and ethical framework in place for the processing of sensitive personal data in the sense of the GDPR

Projects involving non-human sensitive data
For any sensitive datasets to be used, applicants must demonstrate that they have already arranged access to the dataset(s) prior to submission. If using anonymised or pseudonymised datasets, data needs to already be anonymised/pseudonymised at the point of application. Finally, the applicant must have considered the legal and ethical framework necessary to carry out their project as obtaining the legal and ethical approval for a project falls into the applicant's responsibility. For full details of eligible projects, see Applicant Guidelines .
Proposals in one or more of the following categories would be in scope:
Development of workflows and toolboxes for data preprocessing, sharing and searching
Cloud-compatible solutions for collection, processing, standardisation, FAIRification, and storage of existing data of different varieties, for example in microbiology, pathology, chemoinformatics, drugs and clinical data, via EOSC
Algorithmic approaches to generating data sets within the life sciences
Integration of existing data sets and repositories across life science fields or within individual research communities
Migration of existing workflows into the cloud, adapting these to FAIR data standards and integrating multiple workflows
Metadata generation and use, including automation projects
Not in scope are projects aiming to generate new data sets, development of entire new workflows or software solutions, projects only involving data curation, projects without scientific use cases or those developing cloud tools without open access.
For examples of the kind of projects we have supported, please take a look at the pilot projects already completed within EOSC-Life: https://www.eosc-life.eu/services/demonstrators/.